Does the concept of online booking make you think, "Nope, that's asking for trouble"?
Watch a video of Vetstoria's very own co-founder, Julien Poublon talking about myths associated with online booking, watch the video below.
When Vetstoria speak to practice teams and show what they  can do, they're often impressed that it can save time, boost client experience and can't wait to start. However, they do sometimes run into objections – just until the clinic sees results. .
Here are nine common misconceptions and myths surrounding online booking and Vetstoria — and the truth.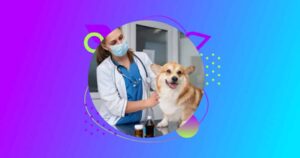 1. "We'll lose complete control of our schedule."
With Vetstoria, you can maintain control over your veterinary practice's appointment scheduling. They have meticulously developed their platform over the years with sophisticated customization options that cater precisely to your clinic's unique needs.
The end result? Appointments are booked with precision—correct timing and suitable durations, ensuring every patient receives the necessary attention. For instance, you can allocate sick appointments more time than routine vaccinations, guaranteeing optimal care for each case.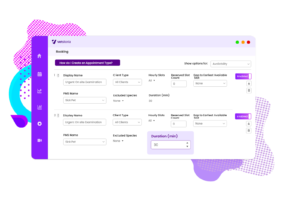 Dog appointments won't slip into cat-friendly hours, and they'll ensure that a vet allergic to rabbit hair won't be available for rabbit consultations. Throughout the onboarding process, they prioritise collaboration and understanding your requirements. The platform will not go live until you've thoroughly tested and approved its functionality, giving you complete confidence before taking the leap.
2. "Pet owners will not know how to use it."
Vetstoria understand the concern that pet owners might accidentally select the wrong option while using the platform. To address this, they've implemented several mechanisms to prevent misunderstandings and ensure a smooth booking process.
When a pet owner selects an appointment option, such as vaccination or consultation, they display a clear and specific message to clarify any potential confusion. Additionally, before proceeding to book an appointment, pet owners are presented with a disclaimer message that they need to acknowledge by ticking a checkbox, indicating they have read and understood the information.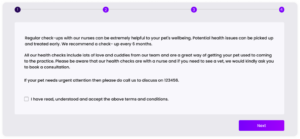 To further reduce any potential issues, they've included a section where pet owners must provide a reason for the appointment. This section is automatically screened for specific keywords. This allows Vetstoria to either block an appointment or provide relevant advice before the pet owner finalises the booking.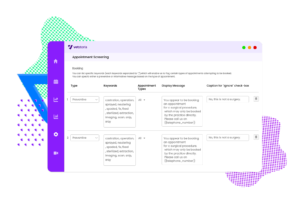 As an extra layer of precaution, they have set up default prevention for bookings of surgical procedures and emergency appointments. Pet owners will not be able to select these options without specific authorisation.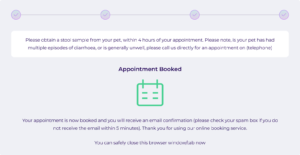 3. "We can't manage new clients online."
Managing new clients is actually one of Vetstoria's strengths, and their platform can  streamline the entire process to ensure a seamless experience for both you and the new pet owner.
With Vetstoria, you can automate the collection of pet owners details. This helps to reduce any calls to get new client information and offer a personalised service.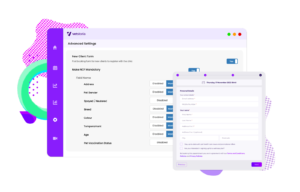 Additionally, you can request upfront payments from new clients when they book their appointment online. This upfront payment feature serves as a measure to prevent no-shows, so you utilise your time effectively.
4. "Online bookings may create double bookings"
You can integrate Vetstoria with your PIMS, to synchronize appointments in real time. This way, your receptionist team stays up-to-date with all bookings and avoids any potential scheduling conflicts.
During the booking process, they take into account two crucial factors to ensure accuracy. First, when offering available time slots to pet owners, they check against the data in your PIMS to make sure those slots are genuinely available.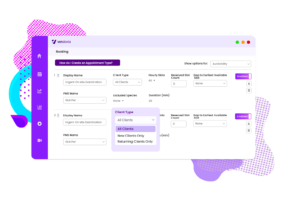 Secondly, once a pet owner confirms the appointment, Vetstoria performs another real-time cross-check with your PIMS that there are no double bookings. This guarantees that you maintain an organised and efficient schedule providing a reliable booking experience for both your team and your valued clients.
5. "We will  lose the human touch with our clients."
Vetstoria surveyed 104 veterinary practices to discover whether this was the case. Does online appointment booking result in a loss of personal touch? And how does it impact the pet owners' experience?
The results speak for themselves. 86% of surveyed practices reported positive feedback from their clients. And, over 85% of practices said online booking goes beyond saving time and positively impacts the level of service they offer pet owners. Here's a quote from a veterinary practice using online booking:
" Without the phone ringing off the hook, we can take our time with each phone call rather than feeling like it's a conveyor belt."
Zephanie, Vet and Director, Shepherds the Vets, Wales
Practices that offer online booking see satisfaction rates of over 94% (Vetstoria data, 2022). This is why airlines, restaurants, hairdressers, and cinemas adopted this a long time ago: It saves time for their teams, and clients find it convenient. So why not?
6. "We don't have the time to implement Vetstoria ."
Vetstoria takes 1-2 calls to set up. That's time that you will get back within a day of going live with Vetstoria. To make things easier, they have a dedicated team that helps you set up Vetstoria to meet your practice needs. Vetstoria customer St. Francis Veterinary Hospital was live with Vetstoria within 72 hours of signing up — proof of how quick it is to get started with Vetstoria.
Learn how easy it was for Petsadena to set up Vetstoria in the video below.
7. "Online booking is included in the software we already have."
There is a lot of confusion between booking an appointment online and requesting an appointment online. Online booking involves the client seeing real-time availability of your practice calendar, choosing and booking a slot, and receiving instant confirmation at the time of booking. Requesting an appointment typically involves a client requesting a specific time slot for an appointment, which your team responds to when they can.
To learn more about the difference between requesting and booking appointment online, read their blog here.
So unless your PIMS offers instant confirmation – no work for your team – then you would still need an online booking platform like Vetstoria.
8. "A new software will be difficult to use."
The best thing about Vetstoria is that it works in the background. Once you connect it to your practice management system and configure it, you don't have to log into Vetstoria unless you want to make changes or try out a new feature.
They have a large team of friendly ex-veterinary professionals who will guide you through the setup process and a support team to help you make any adjustments you need whenever you want to, so you're in safe hands and have nothing to fear. They also offer learning material via their knowledge base and regular webinars on product updates and features so that you can stay updated.
9. "Online booking platform is too expensive for us or not worth the money."
If reducing calls, saving admin time, giving your customers a good experience and boosting revenue isn't worth it, sure.
"Vetstoria has had a huge impact on the way we work at Calder Vets. The booking system has reduced the pressure on our phone lines and associates. We have seen an increase in positive comments via our feedback service since using Vetstoria, mainly in relation to ease of booking and response rates."
-Danielle Cooper, Practice Manager at Calder Vets