At a veterinary practice, keeping clients safe extends beyond providing the best care for their pets while at your practice. Veterinarians also need to help pet parents better care for their pets at home by teaching clients best practices for day-to-day pet care.
However, nowadays clients need to provide a significant amount of personal information to book an appointment and pay for services. Keeping this information safe is an essential part of keeping your clients safe.
To help ensure businesses in the UK keep customer information safe, the GDPR went into effect. But what are your responsibilities under the GDPR as a veterinary practice and how can you do your due diligence to ensure compliance?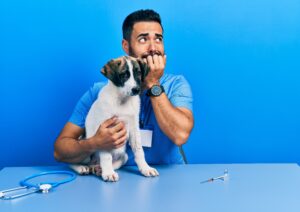 What is the GDPR?
The GDPR refers to the General Data Protection Regulation which governs how businesses can use, store and collect personal information in the EU. It aims to reduce the impact and frequency of data breaches by setting cybersecurity standards. On top of protecting personal information, it also gives people more control over their personal data and the way companies can use it.
Does the GDPR Apply to Veterinary Practices?
Every business or organization that processes or controls the personal data of EU citizens must achieve compliance with the GDPR even if the data gets processed by a third-party provider. This means any business that stores payment information, client details such as phone numbers or addresses, or any number of other types of personal data must follow the GDPR.
With these criteria, virtually every veterinary practice is subject to the GDPR requirements.
The Risks of GDPR Non-Compliance
Unlike the data protection regulations in most jurisdictions, non-compliance with the GDPR can lead to serious consequences. In extreme cases, penalties can go beyond 20 million. So far, the largest GDPR fine was imposed on Amazon and totalled 636 million. While a veterinary practice will never see fines that large, it showcases the potential severity of penalties imposed by the GDPR.
Beyond the direct fines imposed by the GDPR, non-compliance also increases a veterinary practice's risk of falling victim to a cybercrime. When you become the victim of a cybercrime, you need to recover your local network, determine the severity of any data loss, and repair your reputation. With 38% of small businesses in the UK reporting a cyber attack in 2022, now's the time to safeguard your data by becoming GDPR compliant.
How to Make Your Veterinary Practice GDPR Compliant
The risks of refusing to become GDPR compliant are obvious. But, what are the responsibilities of a veterinary practice to become compliant? The GDPR outlines clear requirements and responsibilities for a business to become compliant.
So, here's what most veterinary practices must do to follow the regulations set by the GDPR. Keep in mind, some specific requirements may apply to you not outlined here based on the size of your practice and the data you collect.
Understand and Categorize Your Data
Before making your data compliant, you first need to take account of your data and determine what data you collect, store, and process is subject to the GDPR. At a minimum, most veterinary practices maintain the following data sets that are subject to the GDPR:
Contact information for your clients
Clinical data from your patients
Human resources records
Employee information
Supplier details
With only this bare minimum list, veterinary practices already have a significant amount of data they need to make compliant.
Implement a Data Register
A data register, also referred to as a data diary, provides a written record detailing how a business maintains GDPR compliance. This document outlines everything from data discovery to data deletion processes. It shows the flow of data from the moment it comes into your custody to the moment it's deleted.
You use your data register as a means to prove your compliance in the event of a data breach. With this single document, you can avoid hefty penalties by showing how you followed all data protection regulations.
Report Every Data Breach Immediately
All businesses subject to the GDPR must report data breaches within 72 hours of the breach occurring. For veterinary practices in the UK, breaches must be reported to the Information Commissioner's Office. In the report, include every data breach, all facts related to the data breach, the effects of the data breach, and actions taken to reduce the impacts of the data breach.
Acquire Consent for all Data Collection Activities
A major aspect of GDPR compliance involves acquiring consent to collect any personal data. This involves becoming transparent about all data collection activities as well as adopting an opt-in policy instead of an opt-out policy. Opt-in policies require people to actively agree to allow their data to be collected. You can see opt-in policies in action when you visit any website with a cookie collection agreement pop-up.
Update Your Privacy Policy
Your privacy policy provides a clear outline of all the data you collect and how you put that data to use. It gives the people whose data you collect an immediate resource to understand your data collection activities. Under the GDPR, your privacy policy must remain up-to-date at all times. Any changes you make to your privacy policy should be disclosed in an email to everyone you collect data on.
Remain Due Diligent by Assessing Risks Regularly
To minimize the risk of data breaches occurring, the GDPR establishes guidelines on remaining diligent regarding new cyber risks. To do your due diligence regularly assess the risks and exposure of your data assets. This involves recording who can access which pieces of data, security controls in place to prevent unauthorized access, and general data access procedures. You should also keep up-to-date on the latest tactics cybercriminals use to breach data.
Conclusion
Maintaining GDPR compliance as a veterinary practice can seem like a daunting task. But, with the right tools and information, anyone can become GDPR compliant. If you need help with your compliance, contact Veterinary IT Services today to discuss how we can help you become compliant!