Whiskercloud's veterinary marketing guide is available to help you make the right decisions to grow your veterinary business. Every veterinary practice is different, and different business types in other locations mean it's essential to know everything you need to do to correctly advertise your business to potential customers in your area. No matter where you live or the services you provide, following these tips will help you take your business to the next level.
The following tips have varying degrees of implementation, but all of these things can be set up immediately if you're ready to grow your business. Remember, you are a local business, and targeting local pet owners is the name of the game. 76% of people who search on their smartphones for something nearby visit a business within a day. It's essential to make sure you're there when they are searching, and our veterinary marketing guide will put you in a position to secure new business.
Almost a third of U.S. consumers search for local services online daily. If your digital presence isn't actively marketing your business to those in need of veterinary care, you are helping send business to your competitors. Marketing plays a massive role in generating revenue and growing clientele. If you don't develop a marketing strategy (or hire someone to do it for you), your business growth will eventually become stagnant.
WhiskerCloud is a leading expert in all things digital marketing for veterinarians. They work with clinics like yours every day to optimise their digital presence, perfect their search engine optimization (SEO), and generate more business. Below are the exact strategies they utilise to provide exceptional results.
You need an excellent, custom veterinary website.
Your website is the central hub for all of your marketing efforts and typically the first impression your business can make online. A Missouri University of Science and Technology study reported that it takes a person less than two-tenths of a second to form an opinion about your brand when they visit your website while taking another 2.6 seconds for the eyes to adjust fully and respond to that impression. The point is clear – an excellent website is so essential for everything you want to do online. A recent study said that 75% of people base business credibility on a website. Whether it's word of mouth, a viral social media post, a referral, or Google ads, it's vital to ensure that your website is modern, custom, and built for conversions.
Your website should clearly state your services, location, hours, and contact information and be able to convert a click to a client in two clicks or less. To do that, you'll want to ensure that your website is mobile responsive, has call-to-action buttons on each page, and has a design that lets people know that you're a modern business. 94% of people won't trust an outdated website, so you need to convey trust with your website.
It's true, getting a custom veterinary website can be expensive, but WhiskerCloud makes it affordable and straightforward to have the website of your dreams. It's much easier than you think. Before we even get started, we'll have you complete a website survey so that you can tell the, what colours you like, what types of photos and videos you'd like to be featured, and any pages you want to be included on the website. From there, their design team will build you the framework of your new website, and within a week or two, you'll be getting a look at the designs they've created for your new website.
Click here to learn more about their custom veterinary websites.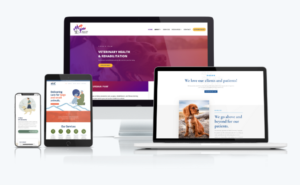 Focus on a custom-crafted veterinary SEO plan.
When implemented correctly, a custom-crafted veterinary SEO plan can be the best marketing of all, as the average WhiskerCloud website sees over two-thirds of the traffic coming from organic search. SEO stands for Search Engine Optimization and is a series of code and processes that helps search engines crawl your website to rank and show up when people search for services you offer. This is important because people conduct trillions of searches per year, and yes, many people are searching for the veterinary services you offer.
Why is this so important for your business? The data says it is! 93% of online experiences begin with a search engine. Someone pulls out their phone or fires up their computer, heads to Google, and types in exactly what they're looking for. If they're looking for a veterinarian in their area, do you come up? If the answer is no, you're missing out on a ton of potential business. It's true – 75% of users don't even scroll past the first page of their Google search results. This means you better make sure the company that handles your website makes SEO a priority for you.
By having a properly built website with the proper metadata, headings, file names, and schema, you'll be at the top of Google in no time! Paid advertising and social media are essential, but a robust veterinary marketing plan starts with a strong local SEO plan for your business.
Many companies charge for SEO, but WhiskerCloud builds it into your website at no additional cost. They believe that charging for SEO basics is like selling a car without a seatbelt; it just does not make sense!
Click here to learn more about WhiskerCloud's SEO strategy.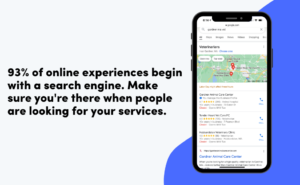 Ensure your veterinary business has a solid social media presence.
95% of businesses worldwide use Facebook to promote their brand, so not utilising social media means you are part of a small group of companies missing out on connecting with clients and finding new customers. A website is great, but it works hand-in-hand with your online presence. If you have a great website without any outlets to drive traffic to it, you're on an island with no potential customer acquisition channels. However, a great website with solid SEO and a solid social media presence means you are accomplishing two things:
Staying connected with current clients by showcasing your business, services, and yes, even your patients
Attracting new clients by sharing content that sells your services and showcases all of the things that make your business unique
According to Sprout Social, over 3.6 billion people use social media worldwide, and that number increases every year. Social media isn't just a place for people to stay connected with each other; it also provides a space for consumers to stay up to date on their favourite brands and businesses. Gaining a connection from a current or potential client could be the ultimate key from our veterinary marketing guide when it comes to gaining new clients. After following a brand on social media, consumers continue to engage in various ways. Ninety-one percent visit the brand's website or app, 89% will buy from the brand, and 85% will recommend the brand to a family or friend. It's that simple.
We know – there is not enough time in the day to have a solid social media presence. That's where WhiskerCloud comes in. WhiskerCloud offers total social media management for our customers. Their expert social team can help you create personalised content that is educational, engaging, and actionable, leading to more conversions to your website.
Save time, save money, and watch your business grow. Remember, this is also an avenue to build a stronger connection with current clients and shouldn't always be considered a 100% sales engine.
Click here to learn more about WhiskerCloud's social media marketing options.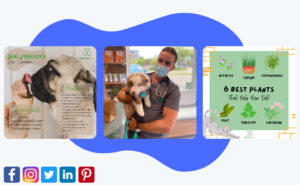 Add new content to your website with a blog.
Google loves frequent updates to your content, and the best way to do that is a blog! The services don't often change for most local businesses, so it's crucial to create new content to ensure that Google is continually indexing your website. As they have said in a previous blog post about why your website needs a blog page, more pages and content on your website mean better SEO. According to a Hubspot study:
Increasing Google Indexed Pages by 50-100 Causes Double-Digit Lead Growth
Our analysis of over 1,400 firms shows a clear positive relationship between pages indexed by Google and the leads a company generates; companies with more indexed pages tend to generate more leads.
Creating blog posts that answer your potential customers' questions will undoubtedly lead to your new content showing up in blog posts for long-tail keywords like "How often should I bathe my pet?" or "How to brush my dog's teeth?" And for the people looking for the ultimate veterinary marketing guide – hello, you found it!
Of course, a blog page isn't just for SEO; it helps all of your other marketing efforts as well. A single blog post can be repurposed into social media posts, email marketing topics, and graphic posts for Instagram and Pinterest. You can also use these blog posts to create strong call-to-action messaging for the product you are showcasing on your website. If you have a blog post about dental care, make sure to include a link to information on dental cleanings and where to make an appointment.
If you are creating consistent content that readers love, they will keep coming back to see what you're posting about next.
Click here to learn more about why your website needs a blog.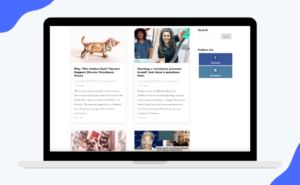 Make sure you manage your online listings and Google My Business profile.
Local SEO is essential for pet businesses, and it's vital that your online listings are up-to-date and in proper working order. This means that the business name, website URL, appointment URL, address, service areas, hours, and services offered are consistent across all online listings. In fact, Google created a page that tells you how to improve your online local rankings, and WhiskerCloud follows all of their rules to help optimise your Google My Business listings.
Enter complete data
Local results favour the most relevant results for each search. Businesses with complete and accurate information are easier to match with the right searches.
Important: Make sure you keep your information up to date as your business changes.
Make sure you've entered complete business information in Google My Business, so users know what you do, where you are, and when they can visit. Provide information like, but not limited to, your:
Physical address
Phone number
Category
Attributes
Keep your hours accurate
Update your business hours regularly, including when you open and close, and special hours for holidays and events. Accurate hours info lets shoppers know when you're available and gives them confidence that your business will be open when they arrive. Learn how to edit your hours.
This is important because 46% of all searches are looking for local businesses.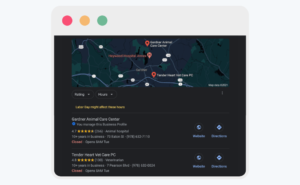 Focus on getting more positive reviews for your veterinary business.
Reviews are social proof that your business offers excellent customer service and quality offerings, and Google loves to see that. Having a lot of high-quality reviews from happy customers shows Google that you have authority, expertise, and trust in your industry, making them want to feature your business when someone is looking for the services you offer.
There is more to it than just getting good reviews on your online listings; it's about replying, too! Google even says this on their Google My Business website: Respond to reviews that users leave about your business. When you reply to reviews, it shows that you value your customers and their feedback. High-quality, positive reviews from your customers can improve your business visibility and increase the likelihood that a shopper will visit your location.
The truth is, the veterinary marketing guide is incomplete if it does not contain social proof, and great reviews should be a big part of your marketing strategy.
Why is this important? A recent study featured in our local SEO guide provides three reasons why this should matter to all business owners:
85% of consumers trust online reviews as much as a personal recommendation
79% of consumers read a fake review in the last year, but 84% can't always spot them
94% of consumers said that an online review convinced them to avoid a business
WhiskerCloud's veterinary reputation management team oversees hundreds of reviews per day to ensure that fake and spam reviews are getting removed, great reviews are getting responded to, and everything is customised for your business. About 88% of consumers trust online reviews as much as personal recommendations from friends and family.
Click here to learn more about WhiskerCloud's reputation management services.
Implement a paid (PPC) advertising strategy.
Having a solid website and online presence is a great starting point for checking boxes off the veterinary marketing guide and having everything you need to thrive online – but sometimes, it's essential to implement a paid advertising campaign for your veterinary business. For obvious reasons, anyone who can spend enough money can jump even the best-ranked websites by paying to be ahead of them on search engines or social media pages. That's where a pay-to-play strategy comes into play.
Paying to be at the top of search engine rankings is not a bad thing because it's a guaranteed way to drive more traffic and sales for your business. The data says that they work if done correctly.
46% of people can't tell the difference between organic results and paid ads in search results
41% of clicks in search results go to the top three paid ads above the top organic page on the listings
Visitors from your ads are 50% more likely to purchase something than an organic search visitor to your website
Businesses make an average of $2 in revenue for every $1 they spend on Google Ads. The key is to ensure that your strategy factors your business objectives, budget, and offerings. From there, it's essential to have a team that manages your keyword management, ad descriptions, and titles, search radius, and time and day the ads are running are all being monitored daily to ensure that no money is being wasted on wrong keywords or incorrect targets. A good advertising strategy is not something that you have to budget for; it's an investment in the growth of your business.
Click here to learn more about WhiskerCloud's PPC advertising for veterinary hospitals.
Create specials and offers for current and potential customers.
Most veterinary businesses hate to devalue their prices but offering specials and offers for new and potential customers, but the truth is that it works, period. There is another way to look at specials that may make it a little easier to stomach the next time you're adding a discount to an invoice as a new pet parent is checking out. Every business has a cost per acquisition, which is money spent on marketing divided by the number of acquisitions (new customers or people accepting your offer). If you spend $100 and get four new customers, your cost per acquisition of those new customers is $25. Would you be happy to pay $25 to get a new customer for your business? If you know the potential value of that customer, you'll know how much you can spend to get a new customer.
So, if you know that a new customer is worth $3,000 over the lifetime of their pet, and you can give away a free first exam or half-off the first exam, do you feel that the $55 cost per acquisition is worth the $3,000 you'll get over time? The answer should be yes. The same goes for things like dental cleanings and other big-ticket items. If you typically have 20 dental cleanings booked for dental health month and a 10% discount helps you add 15% more dental cleanings, then you have a winning campaign.
Specials can help you close the deal when acquiring new customers. A study from RetailMeNot showed deals substantially influence customer acquisition, brand loyalty, and brand perception among consumers, especially among millennials.
66% of consumers "made a purchase they weren't originally planning to make solely based on finding a coupon or discount"
80% of consumers said they feel encouraged to make a first-time purchase with a brand that is new to them if they found an offer or discount
74% of Americans say offers are a top factor when deciding where and what to buy online
81% of Americans say finding a great offer or discount is on their mind throughout the entire purchase journey
Local ads can be great for your business, but solid offerings help increase new customer acquisitions and help you sell more products to your current customers.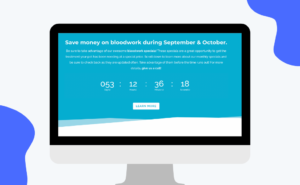 Focus on client retention above all else.
As Whiskercloud wrap up their veterinary marketing guide, we have saved the most important tip for last. It's more expensive to get a new customer than to keep a current customer – and most businesses don't focus their marketing efforts on existing customers. Suppose you have a strong base of loyal customers for your veterinary business or are slowly growing there. In that case, it's essential to keep them happy, and many companies don't focus any attention on their current customers. Semrush put together a list of customer retention stats worth sharing and should factor into your existing business plan for marketing and caring for your current customers.
44% of businesses focus on customer acquisition, while only 18% focus on customer retention.
89% of companies say that excellent customer service plays a huge role in customer retention.
76% of companies agree that customer lifetime value is an important concept in their organization.
However, only 42% of companies can accurately measure the lifetime value of their customers.
The probability of selling to an existing customer is between 60% and 70%.
The probability of selling to a new customer is only between 5% to 20%.
Existing customers are 50% more likely to try your business's new product.
Existing customers are also 31% more likely to spend more on their average order value with your business.
As you start checking off the boxes from our veterinary marketing guide, be sure to focus on acquisitions and client retention—your business will be better for it.
Big takeaways from our ultimate veterinary marketing guide.
Marketing and client acquisition won't work if you don't have plans and processes in place to convert them into customers. If your website isn't ready to help sell your services or easily allow someone to book an appointment, social media marketing, PPC advertising, and online campaigns will be wasted. If you don't have a plan in place to quickly communicate via email or phone with new customers as they convert to your website, your marketing efforts will become wasted dollars. Ensuring that your marketing plan is complete and ready to be acted upon is the best way to build a successful veterinary marketing campaign.
Are you ready to grow your business? Reach out for a live demo and learn all about how WhiskerCloud can help take your business to new heights immediately.
Enjoy free veterinary marketing guides for each month of the year.